The sun rises in the countryside to welcome the cameras of France 2. They somehow follow the 4×4s of Atelier JHP through the Brière marshes. Who's the most enthusiastic? Rio, of course! His 4 legs give him ten times more energy than his two-legged colleagues.
Julie Darde, Laura Lequertier and Cédric Estève, Laurent Delahousse's team sign this report on our Morta Knives, programmed for airing on France 2, on Sunday 12 September at 1.15 p.m. and 2.20 p.m.
If the French tell their stories, Morta deserves to tell its story. Action!
FINDING MORTA | A DAWN EXPEDITION
Morta? It's this wood that is only to be found in the Brière region. The marshes of the Brière nature reserve jealously imprisoned it for 5,000 years before I, Jean-Henri, artisan cutler at Atelier JHP, came and dug it up. The Shadoks, announces the journalist. Like them, our cutlers pump again and again until they find a trunk of this so rare material. When the probe meets with resistance and " it sounds muffled ", as Aymeric explains, it means the treasure is not much further.
UNEARTHING MORTA | BY WHAT RIGHT?
While I appreciate the odour of peat, my faithful cutler Vimala modestly declares she is used to it but her small smile makes us suspect a certain irony. In short, our joyous team throws itself with vigour into this local picturesque sport. But beyond the natural odour, our journalist is concerned by a far more practical question. Do I have the right to extract the Morta in this way? I promptly reassure her. This land is private and run by an association of co-owners that gave permission to exploit this wood, before Atelier JHP started up its activity.
MORTA HAS EARNED IT
Now it's the chainsaw's turn to get to work and participate in the collegial efforts. By taking a sample, we quickly judge the quality of the trunk. Black, dense and compact, so it is worthy of joining the cutlery workshop.
While Rio plays with the car's paintwork, the others unload tree trunks from the pick-up. Not Morta, no! 3 chestnut tree posts that, with a chain, form a lifting device, a gin to be more precise. Unfortunately, that proves insufficient and I have to plunge body and soul, but especially body, into the mud. I embrace the colossus with my arms to pass the chain underneath and lift it. Difficult task! And for good reason as the piece weighs almost one ton. Some slings and litres of sweat later, the trunk sensibly waits behind the vehicle for its driver to deign transport it to a safe place.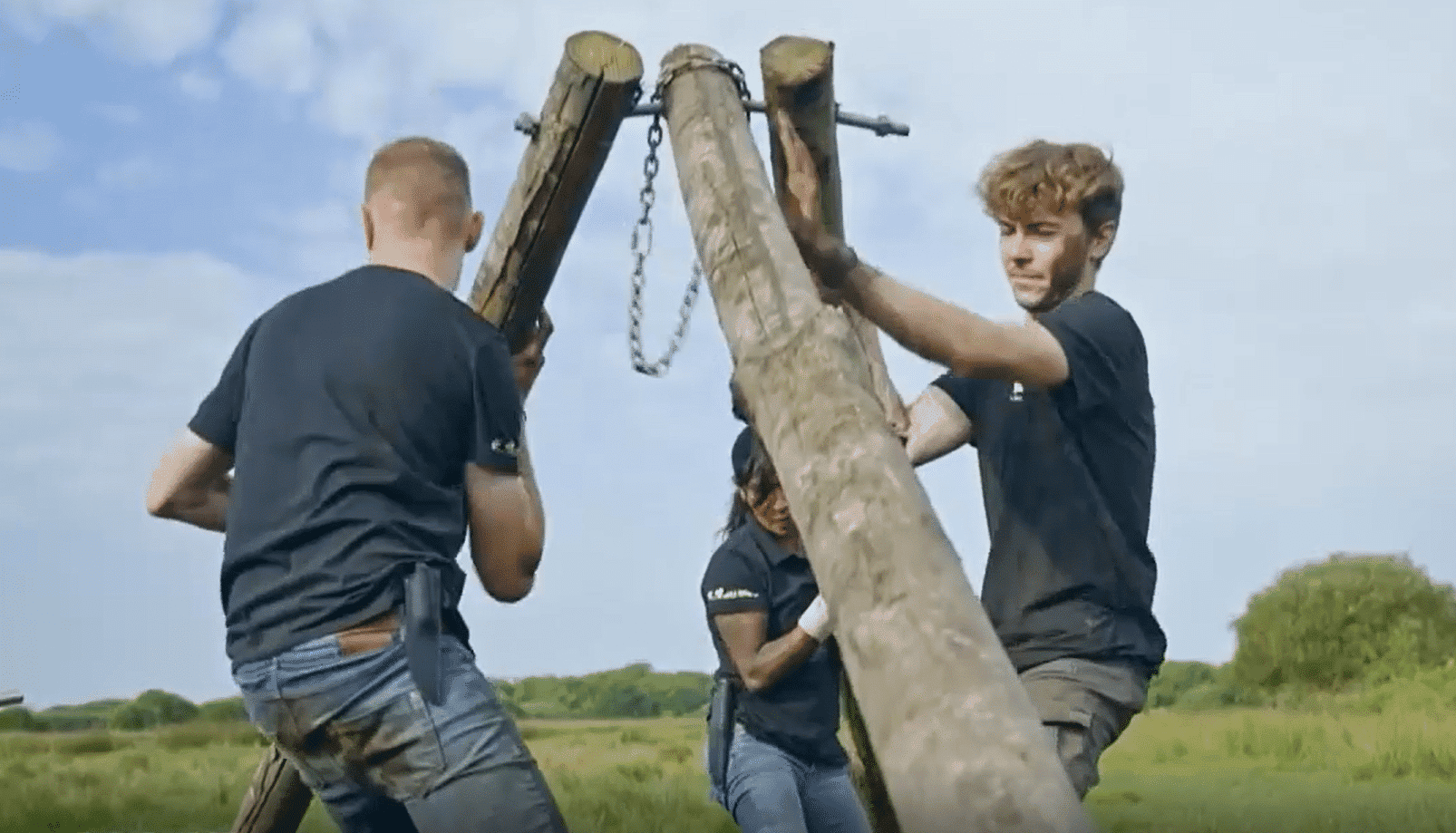 "I used to have a normal life before, ", confides Jean-Henri between two efforts.
Formerly a sales trainer for a big corporation, I chose to change my life 10 years ago to devote myself to my two passions: knives and Brière. Morta, at the crossroads of these two passions, serves as my raw material to make top-of-the-line knives. This passion, as old as… well, my age, in fact consumes my days and requires a team of 6 people.
ATELIER JHP COMBINES A LOVE OF KNIVES, MORTA AND WORK WELL DONE
So here's how this famous wood will take shape or rather come back to life. Satisfied with my morning find, I contemplate the butt end, the lower part of the trunk (base of the butt log). Considering the quality of the piece, I am delighted to immediately create a knife that will leave in a shipment. The workshop manufactures knives for the kitchen, for odd jobs, "for those who cut ", adds the journalist.
Among the other models, if I decide, I'll even show you my most precious piece. An authentic Indian knife, designed with a plastic handle and a blade that does not cut, my childhood companion. " When I had it with me, I was the strongest guy in the world! "
While each of us focuses on their forge, file and know-how, I strike the punch. You can't afford to make a mistake here. You can't redo it. Once this delicate manoeuvre is over, the knife can be placed in the case and leave to meet its new owner.
Whether collection piece, inheritance or gift, like a watch, the knife remains a special object. Furthermore, a customer is coming. He's looking for a knife to give to his grandson, who recently graduated as an engineer. So I show him my collection of knives, composed of its 3 product categories, namely expensive, very expensive and finally, exorbitant. The visitor is instantly charmed by the Damascus blade. By profession a butcher, the man admits he is very receptive to the beauty, quality and value of working tools. He hopes that his grandson will never part with this precious object. Like himself, who has never parted with the knife his mother handed down to him 25 years ago when his father died.
Soon the second episode of this uplifting saga! Stay tuned. Its Sunday at 1.15 p.m. on France 2. The rendezvous is announced!
Otherwise, while driving through Brière, make a detour through Saint-André-des-Eaux to visit the workshop where over 4,000 knives were made in 2020.