It is daybreak when the 4×4 Defender arrives on site. What site? The Brière marshes, obviously! An ancient forest, now converted to a vault. Habitually the Atelier JHP team probes, digs, removes top soil and extracts there, at the cost of exhausting work. Like the "coal faces", the miners of the past, the cutlers covered in sweat and peat take from the ground their precious raw material, Morta. Woodcutters ? Not really, because it's the earth and the peat that choose to offer their most beautiful objects. But on this 4 and 5 October, it's quite another operation that awaits these millenial trunks. Pascal, Jean-Yves, the mobile saw and the Morta, today's Dream Team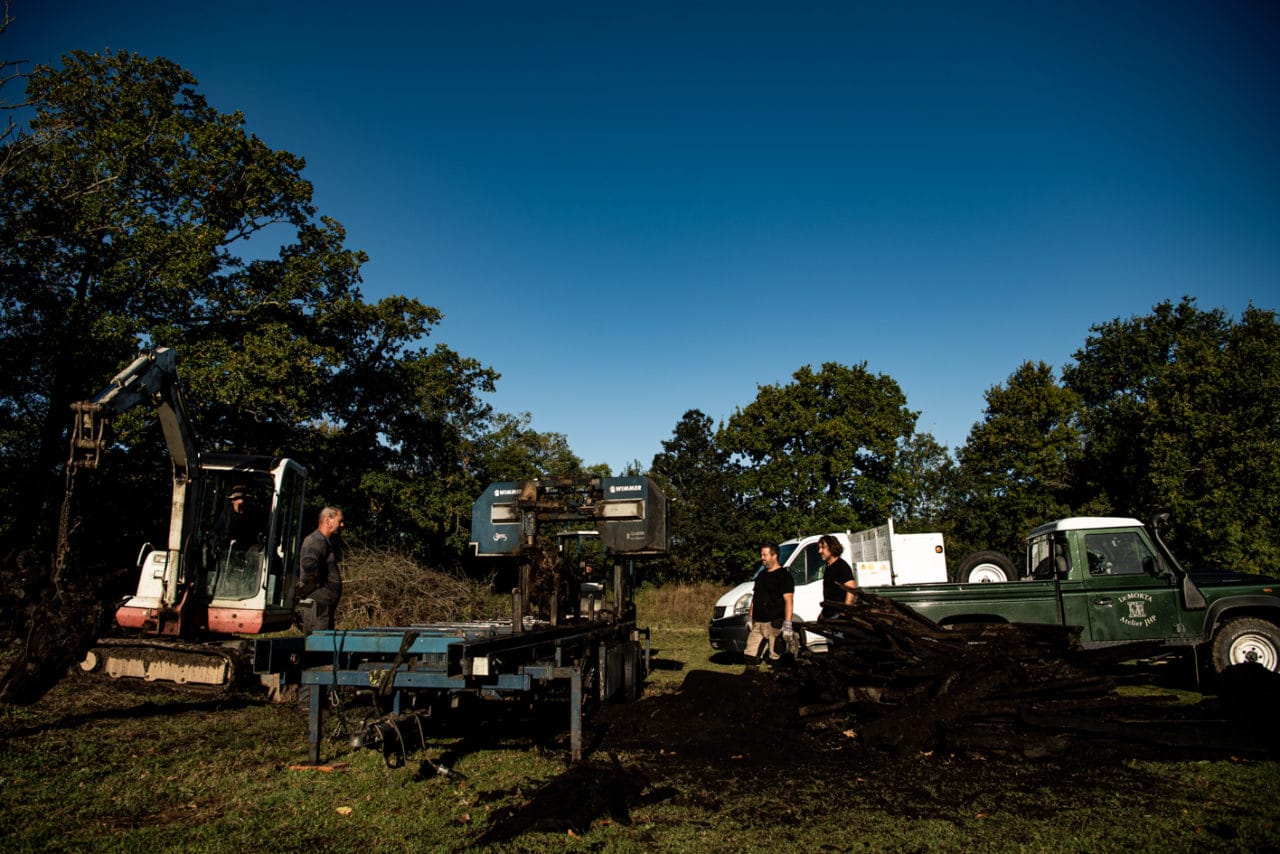 MOBILE SAW AND MORTA | AN ANNUAL ENCOUNTER
A mobile saw rests on the impressive trailer, a Wimmer saw of German quality, if you please! That day we make way to sawing, as we do every year. It's a matter of cutting these Morta (formerly oak) trunks lengthwise, thereby forming planks to secure and store them and protect them from shocks that might alter their quality. No time to lose, so the entire band gets to work. Indeed, no less than 25 trunks are patiently waiting to pass under the blade. Once again, Morta requires a lot of strength, 2 tough days await Michel, Arno, Seb, Ben, Jo, Jordan, Pascal and Jean-Yves. Each trunk has to be lifted, placed and blocked on the mobile sawmill. Trim, saw, cut, section, it's time for the ballet of sectional cutting and tasting the abrupt caress of the saw's teeth.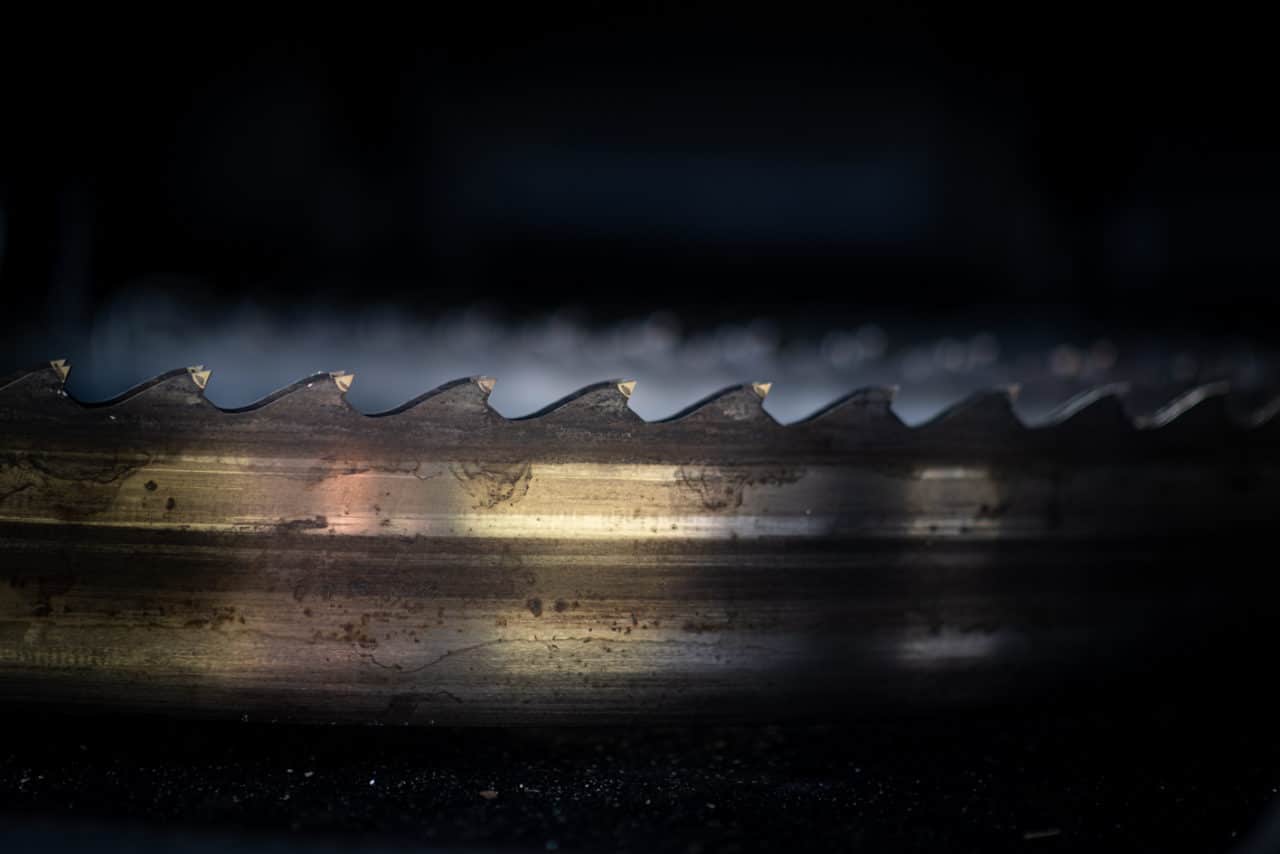 This transformation, refining dare I say, allows us to bring the wood back to warm up and dry, and prepare it for the final metamorphosis.
Chocolate bars? Wine cellar? This piling up of rough sawn timber, sprinkled with its shavings, resonates differently with each of us. For the Morta, another waiting period begins.
2 to 3 years of rest, sorry, drying, later they will finally head to the cutlery. There are decidedly nothing but blades in the Morta life !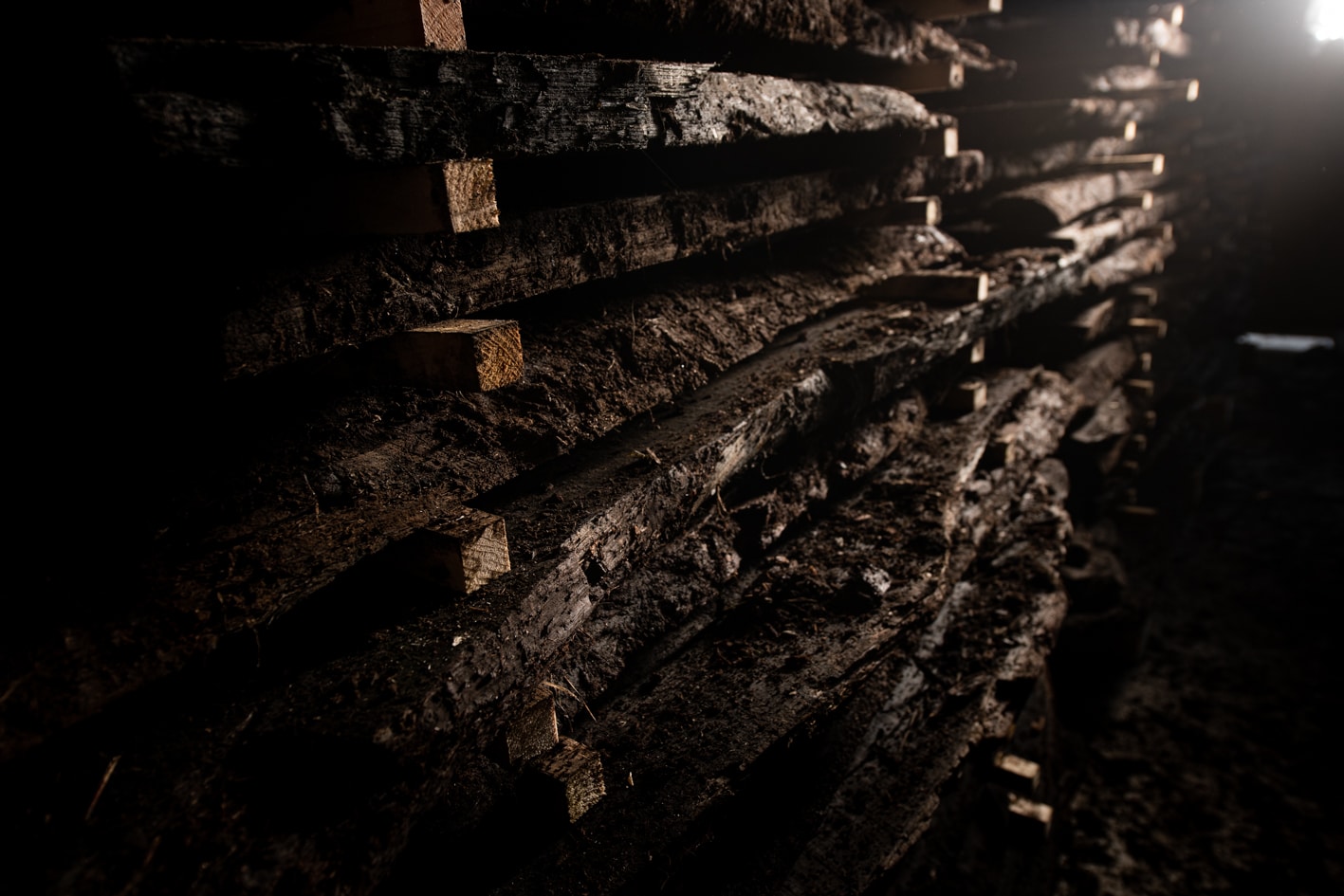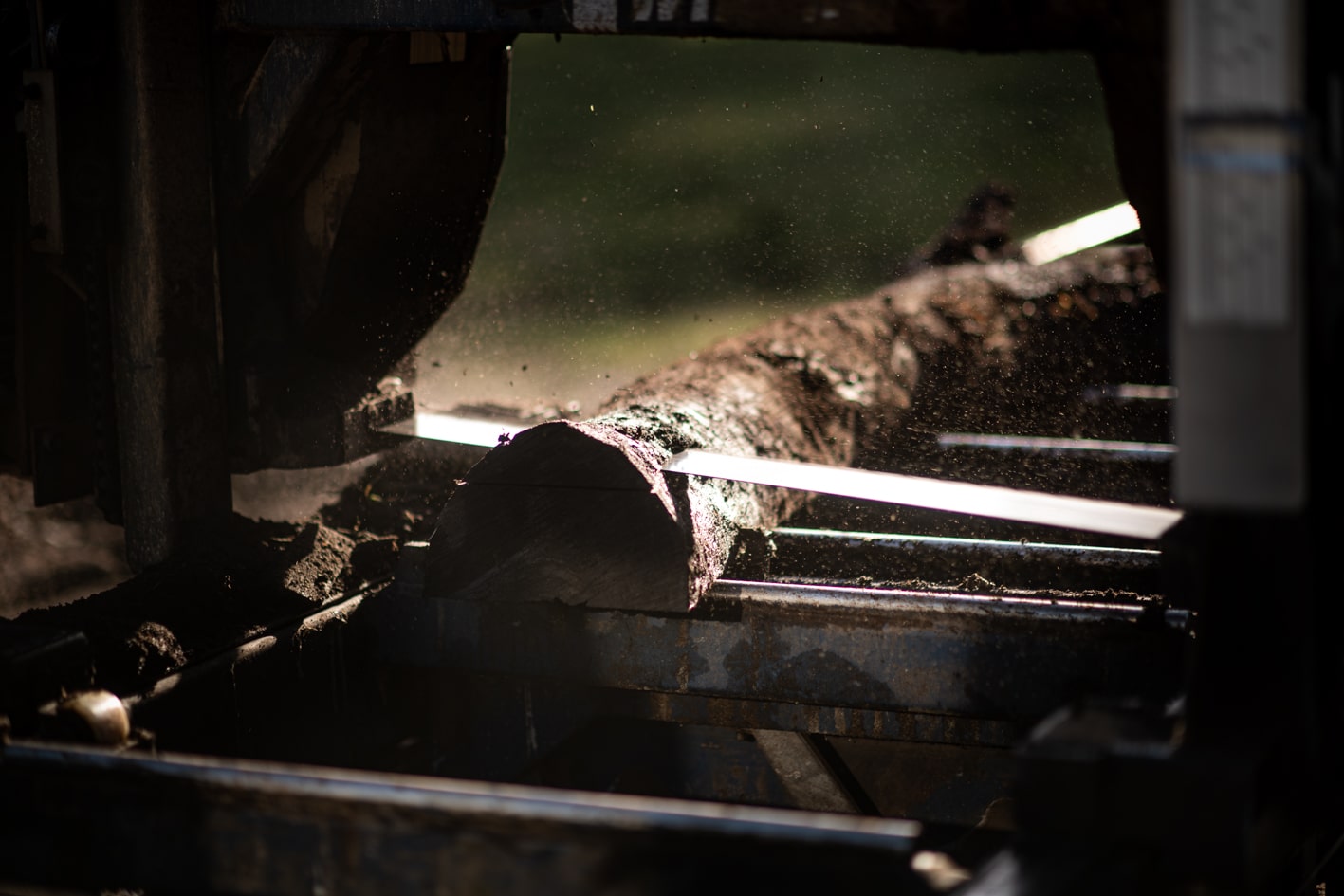 MORTA | BEST FRIEND OF BLADES
The blade, eternal sister-in-arms of this millenial wood. Because, in effect, I decided to use it to make the handle of my famous knives of the same name. Fossilized and nourished by the minerals in the peat, Morta offers an exceptional quality in conjunction with a rare beauty. Very dark, it proudly harbours pretty glints, witnesses of the uniqueness of each piece of wood. So each knife will be unique.
With my cutlers, we combine it, as desired, with a blue border of vulcanized fibre or with some mammoth ivory inlays.
MORTA | ETERNALLY ARTISANAL
So after 3 years' additional sleep, its ultimate voyage brings it from the warehouse to the final rebirth. It is in our cutlery of Saint-André-des-Eaux that our fine JHP team cuts, trims, polishes and assembles it to a blade of equal quality to create an artisanal object, the Morta knife. Kitchen and table knives, fixed or folding knives, it is available to satisfy all needs, both amateur and professional.
Mobile saw stage, so here's a new aspect of the life of Morta that we had never previously depicted to you. Well now it's done. This is the occasion to thank Pascal and Jean-Yves for their collaboration.
It is early October 2021, the extraction season officially ends for Morta Knives. Make way for production! Come and see with your own eyes by visiting us. Too far ? No need to panic, the Morta Knives shop is there !